The National Hotel ~ Rooms & Rates
The National Hotel's floor-to-ceiling renovation returned this grand, 165-year old property to its original splendor, and then some: Every one of The National's 34 rooms is uniquely furnished with beautifully restored antiques and wrapped in contemporary luxury. Whether you prefer a King bed with a radiant heated flooring, or the "John Wayne Suite" with a fireplace and balcony overlooking Historic Main St., one thing is certain: The ultimate combination of modern luxury and traditional comfort is waiting for you at The National Hotel.
Please note that the room-type photos below may not match the room that you reserve. Each room is individually decorated.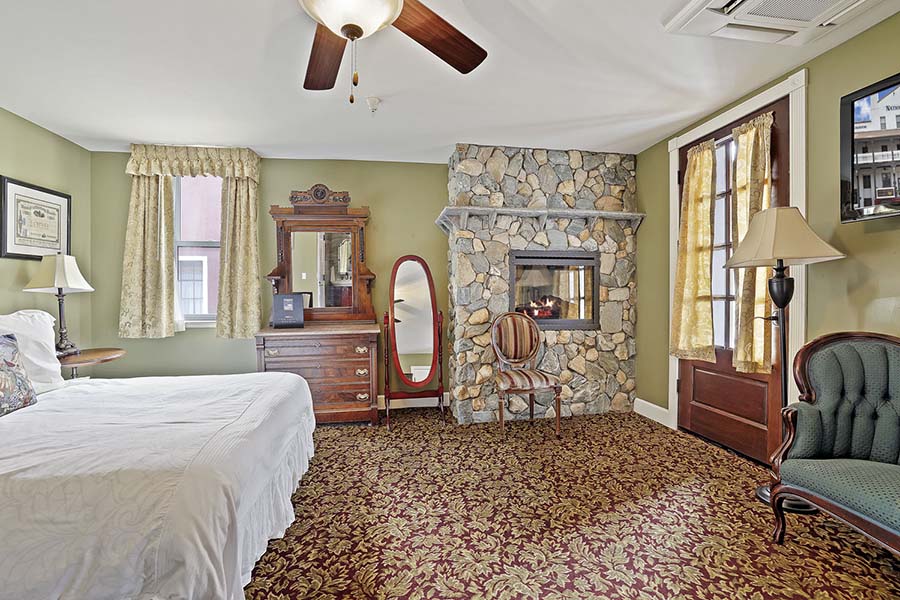 The National Hotel Room Amenities
In-room thermostats
Unlimited hot water
Alarm clock
Complimentary Wi-Fi
Flat screen televisions w/cable TV
Authentic period antiques and fixtures
Marble, granite and glass surfaces
Unlimited local calling
ADA Compliant
"During a road trip to Gold Country my husband and I visited the historic town of Jackson. We decided to spend the night & walked into the hotel. The inside lobby was great, it made you feel as if you were back in time. We went to our room & it was amazing. It had a view of the Main Street of Jackson. The room was very nice & clean and the bed was very comfortable. It was a nice surprise & better than expected. I would definitely stay there again."
Patton