The National Hotel ~ Contact & Map
Thank you for your interest in The National Hotel in Jackson, California. There are many ways to get in touch with us. It's your choice!
Please fill out the form below and we will be right back in touch.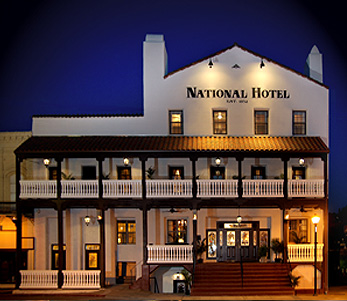 Set in the Historic Downtown Jackson district, this charming hotel with an Old West vibe was built in 1862, and is a 6-minute walk from the Amador County Museum, and 18 miles from wine tasting and winery tours in the Shenandoah Valley.
Sacramento International Airport
1 hour and 13 minutes
Stockton Metropolitan Airport
1 hour and 4 minutes
"We found the National Hotel just by accident on vacation. I couldn't be happier with our stay and accommodations. The woman at the front desk was a wealth of information! She gave us the history of the hotel and told us stories of John Wayne staying there. The room was quaint, cozy, clean and comfortable. We were on the front and took advantage of the balcony for hours. It's not your average cookie cutter hotel. If you like history give it a try!"
Cathy T.